About Us
FRYN' PAN FAMILY RESTAURANT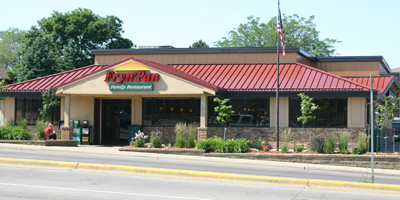 Fryn' Pan Means Good Food
And that means the best of everything in a real home cooked kind of meal.  To prepare good food, we start with good food.  Real garden mashed potatoes, farm fresh eggs, the best homemade soups in town, with meat hearty broth and fresh vegetables. Everything the way you remember it in Grandma's kitchen.
Fryn' Pan Offers
24-hour dining, free wireless internet, fresh Soup 'n Salad Bar 11am to 11pm, 10% Senior's discount 7 days a week with 20% Senior's discount Wednesday's, 5pm to 9pm, full line of desserts for any occasion, and banquet facilities in most locations.  Catering is available from our Yankton and Sioux Falls West 12th Street locations.
History of Fryn' Pan
Fryn' Pan started as an offshoot of Country Kitchens in the early 1970's.  The Fryn' Pan has grown to seven stores in both Dakota's and Minnesota.  With locations in Sioux Falls, Yankton, Fargo, Wahpeton and Moorhead MN, we continue to be a locally owned and operated family restaurant with a goal of providing  you with good service and good food at an attractive price.